Our English language classes are tailored to the unique needs, interests and questions of our students, allowing them to acquire deeper cultural understanding while learning a new language.
Classes are strategically located in the heart of the refugee community. We offer multiple classes a day at various locations, along with free babysitting, to increase access for our clients.
Class Schedule
at VILLAGE EXCHANGE CENTER
1609 Havana St. in Aurora
(Babysitting Provided)
Intermediate: Monday – Thursday (Bamboo Room) 10:30 a.m. – 12:00
High Beginning: Monday – Thursday (Coconut Room) 10:30 a.m. – 12:00
—————————————————————————————————————
at HIDDEN BROOK APARTMENTS
1370 Xenia Street in Denver
Learning Center
(Babysitting Provided)
High Beginning: Tuesday, Thursday + Friday  8:30 a.m. – 10:30 a.m.
ABC Citizenship: Monday + Wednesday  8:30 – 9:30 a.m.
Financial Literacy: Monday  9:45 – 11:15 a.m.
Goal
To foster a community where students develop English language skills to honor their unique pasts, overcome current challenges, and embrace hope for their futures.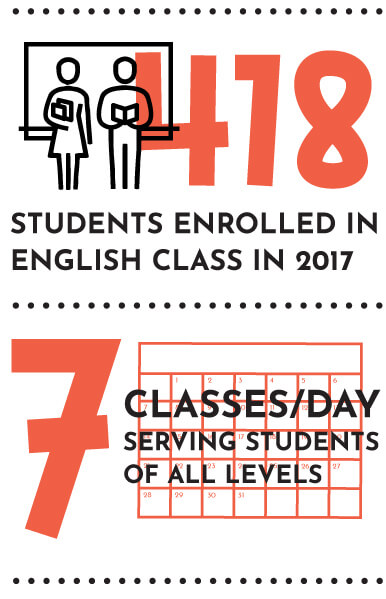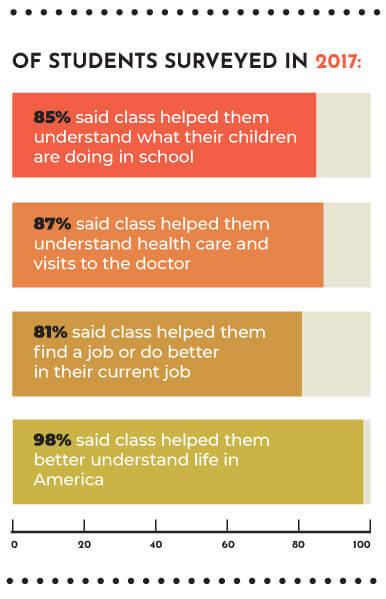 Give the Gift of Learning
Language acquisition is essential to building a new life in the U.S. Will you support our clients in their efforts to learn English?
Donate Today >