Our English language program, in partnership with Emily Griffith Technical College, is tailored to the unique needs, interests and questions of our students, allowing them to acquire deeper cultural understanding while learning a new language.
Schedule
Project Worthmore and Emily Griffith Technical College will be offering virtual + in-person English classes starting Monday, August 16, 2021. 
Classes are available in 2 locations:
1666 Elmira Street, Aurora CO 80010 (PMW)
1313 Xenia St, Denver, CO 80220 (HB)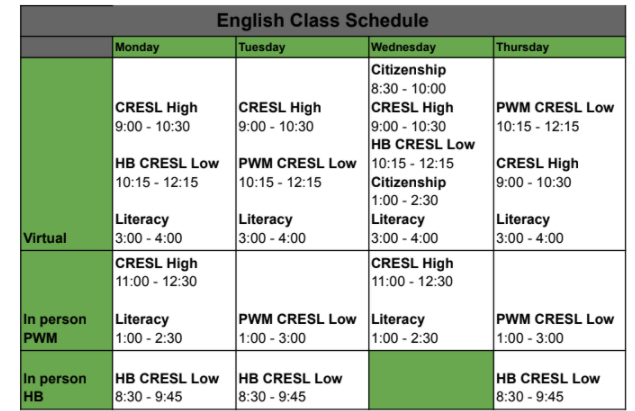 How to Register
If you were a student during the summer classes, you do not need to register again.  You are already enrolled in the class and will hear from your teacher.  If you are a new student or someone who hasn't taken classes with us in a few months, you will need to fill out an application.  There are 3 ways to fill out an application:
In person at Project Worthmore (1666 Elmira Street, Aurora CO 80010)
    2. Email Hannah Wilkinson at hannah.wilkinson@emilygriffith.edu and include:
Your name
Your date of birth
Your phone number
Your home address
Goal
To foster a community where students develop English language skills to honor their unique pasts, overcome current challenges, and embrace hope for their futures.
Give the Gift of Learning
Language acquisition is essential to building a new life in the U.S. Will you support our clients in their efforts to learn English?
Donate Today >